Bkav CEO Nguyen Tu Quang: We are the original manufacturer
(16:00 | 15-11-2018)
On November 14 in Hanoi, CEO Nguyen Tu Quang of Bkav Corporation had a speech on the topic of innovation in smartphone value chain at the Vietnam Innovation Conference held by the Vietnam Central Economic Committee and the Ministry of Information and Communications. Bkav.com would like to introduce full speech of CEO Nguyen Tu Quang at the event.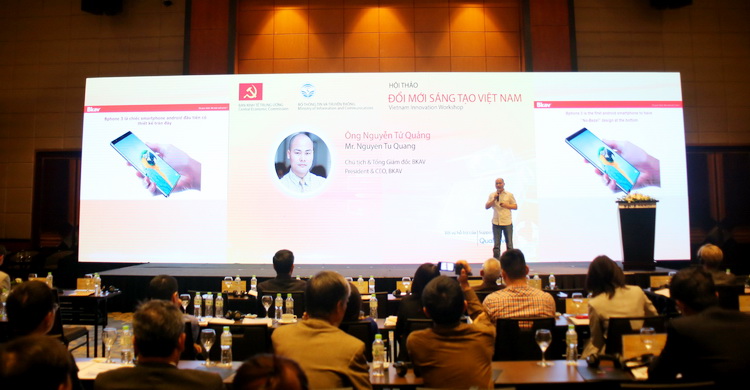 As you may know, Bkav has been engaged in smartphone manufacturing for 9 years. Surely there must be a lot of questions to us about the chance for Vietnam in the smartphone value chain.
I would like to start with an analysis of China smartphone market. As you can see on the screen, this is the smartphone market in 2012. At that time Samsung was occupying the No. 1 market share. But by 2018, Samsung has lost its position to domestic companies of China. And so far Samsung has only 9% market share of smartphone in this country.
Hard to believe that, but it's true. And now Chinese companies not only occupy the market share in China, but they are also gradually gaining the share from Samsung and Apple in the world market.
In fact, Huawei now has the second largest market share in the world. In Vietnam market, we have the following data. Currently, Samsung is still leading the market with 41.6%. Then comes Oppo from China with 23.4%. Apple has 8.9% market share. And the rest actually belongs mostly to Chinese companies. So, it can be said that the majority of Vietnam smartphone market share is currently in the hands of Samsung and Chinese companies.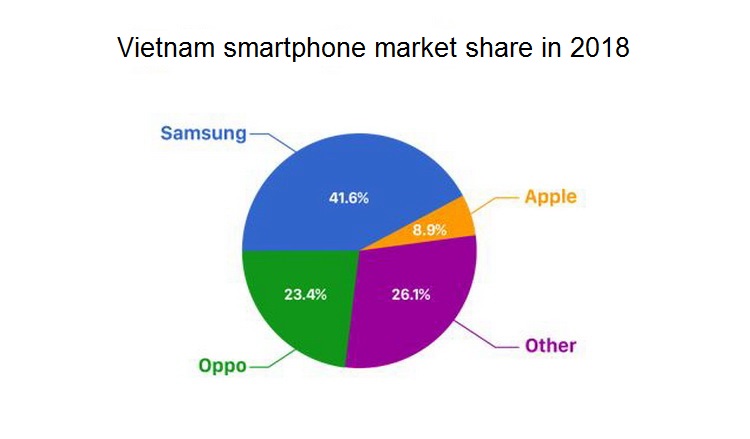 We understand the strategies Chinese companies have used in order to rise up in the domestic market as well as the global market. In fact, it is the culture, the typical character of Chinese businesses that they produce products with moderate quality but cheap prices. By that way they get market share and develop as we have seen.
And in Vietnam, we realize that if there are no other competitors, such as Bkav or any other Vietnamese enterprises, surely Chinese companies will sooner or later take the market share of Samsung or Apple. That is what's happening, we know.
So, what strategy do we have to gain back the smartphone market share in Vietnam?
In fact, our plan has been made for more than 9 years and it is still so at the moment. And I also think that many products in other fields in Vietnam have been successful in that way. We create products of similar quality but better prices than competitors with good products, here are Samsung or Apple. Their products are good, then we must have products of similar quality but better prices.
For Chinese competitors, and I firmly believe that Chinese businesses will have large market share in Vietnam, we Vietnamese people clearly understand that Vietnamese products will be better than Chinese products if they are produced in a serious manner and that Vietnamese people will prefer Vietnamese products if we can confirm that. Then our strategy is to create products that outperform Chinese products. And the price is of course, though superior quality comes along with higher price, not much higher. That is our strategy.
And to carry out such strategy, we have to produce excellent products with good prices. And to do that, we have to own core technologies. In the field of technology it must be an original manufacturer or ODM. 9 years ago we set up such orientation. That is, we have to own the cores in the field. We must be an original manufacturer rather than an importer and then a trader. Importing and then trading is also a way, but that way cannot compete with the place where produces the products and then sells them to us. Specifically, here is China.
To clarify, here I have a smiley chart. Many of you here probably already know that, in the field of manufacturing, especially in the field of technology, this smiley chart is the most obvious to us. It is about value added in the chain to produce, to create a technology product, more specifically a smartphone that we are talking about.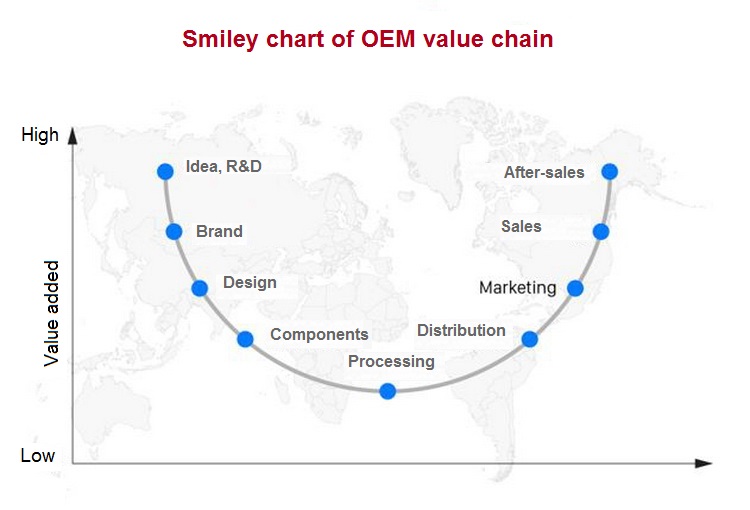 Firstly, we must start with ideas and research and development (R&D). Then we have the brand, design, and components. On the left, the largest value added comes from the idea of ​​research, then it gradually decreases when it comes to processing and assembly.
Similarly, on the right, it is very decisive, not simple. We create a good product but have no good marketing, good sales or no good after-sales service, certainly that product cannot exist in the market, especially high-tech products. Then the right half is also decisive, it is about after-sales service, customer care, sales, marketing and distribution. The higher point on the smiley chart, the higher position of the technology, the higher the value added. Probably, the author has the intention that the bigger the smile, the bigger the value added. (Laugh)
More specifically, the most famous case in this field, that is often mentioned, is Apple iPhone. We see that all stages including research, ideas, brand and design are carried out by Apple in the US. Customer service, marketing, and distribution are also run by Apple in the US. Only the assembly is carried out in China as we know.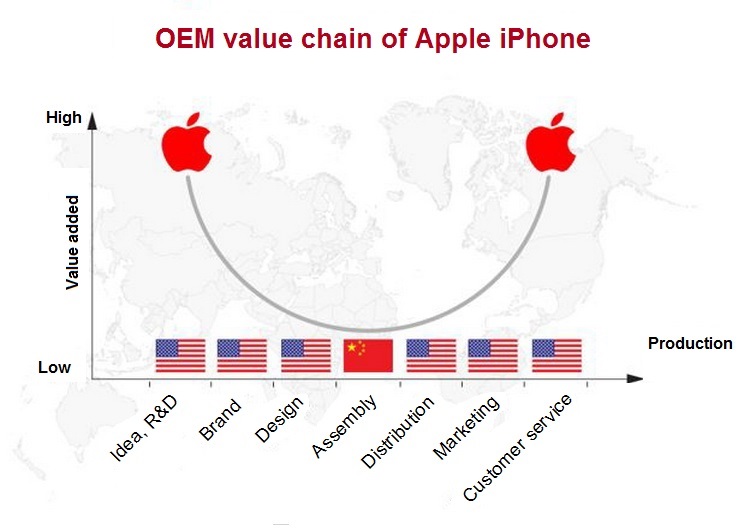 This is a specific character of the chain of original manufacturers. It is the same for Samsung. We know that they do all steps of idea, design, research, customer service, marketing and distribution, I am talking about Samsung on the global market, their production and processing are carried out in Vietnam. For us, this is very good, creating jobs is very good, isn't it? But clearly the value added comes at the end.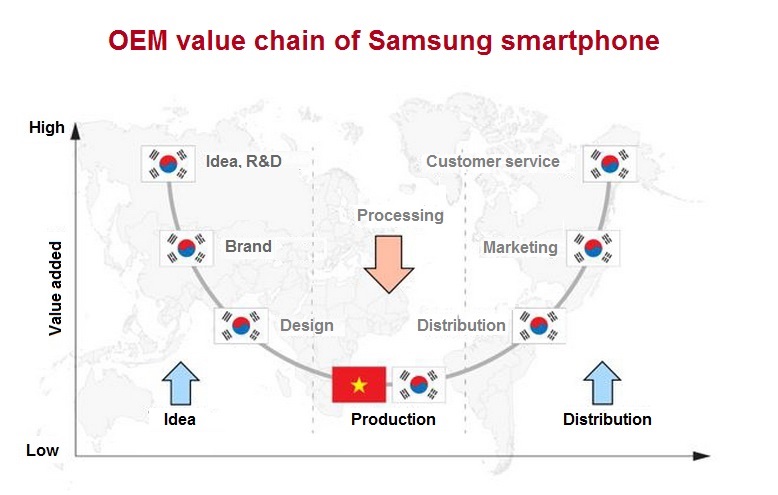 For Bkav with our Bphone, over the past 9 years we have tried to add the name of Vietnam in all stages. Specifically, the idea of our Bphone, the stages from research, brand positioning and product design are carried out by Bkav. You can also see that we distribute the product ourselves to master our products and systems. Last year we distributed Bphone through the system of Mobile World, but this year we distribute it through our chain to take the initiative. We also carry out the parts of marketing, sales and after-sales service, of course.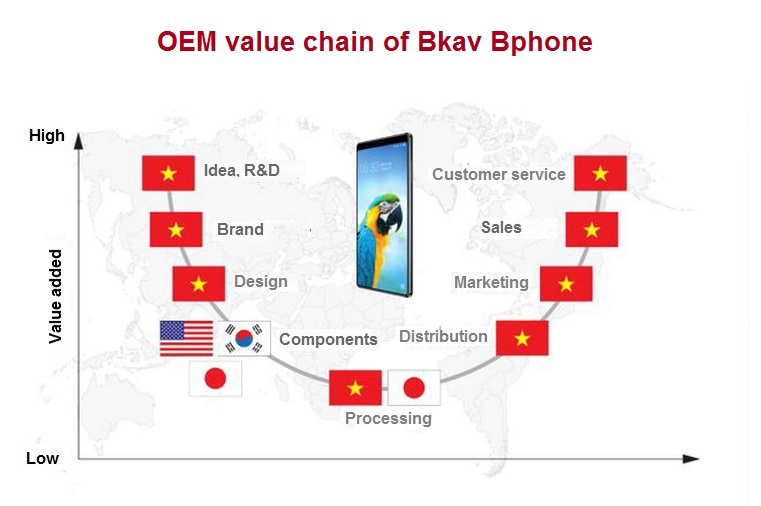 For components we also use the world leading components. For example, we use Qualcomm chip, and we are really thankful to Qualcomm for always accompanying us for the past 9 years so that we can have a good foundation in partnership with Qualcomm or Japan and South Korea. Mostly we use such components. Regarding processing, actually, last year or the years before, we did it ourselves, but this year we hire a Japanese company located in Vietnam to do the processing, this company is Meiko located in Thach That, Hanoi. Thus, with Bkav we master the complete chain of all stages like this, the value added is really good.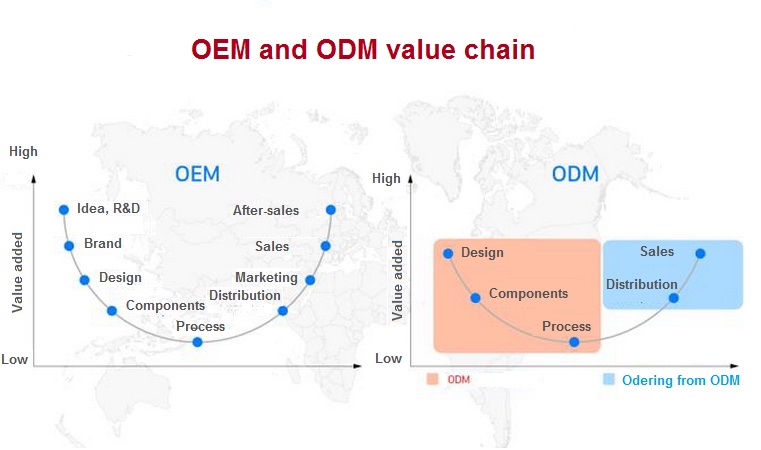 Here, if we are only an OEM, that is, we order the design, we only carry out the right part in green which includes the distribution and sales, and many other parts of the product value chain, especially technological products, do not belong to this part. In Vietnam, so far many companies have followed this OEM model. China is the supplier of this model. Let's have a comparison between OEM and original manufacturer. We are the original manufacturer so we are forced to own all core technologies as I have just described, and thanks to mastering such core technologies, we can be creative.
Today's topic is innovation. In fact, I find it really necessary to have methodical investment in research, in the root of problems, so that we can master the innovation. Without such capabilities, it is very difficult to innovate, to create excellent products at good prices.
I would like to take an example of Bphone 3, the smartphone we just released on October 10. Probably many of you here have not seen it yet: Here is Bphone 3.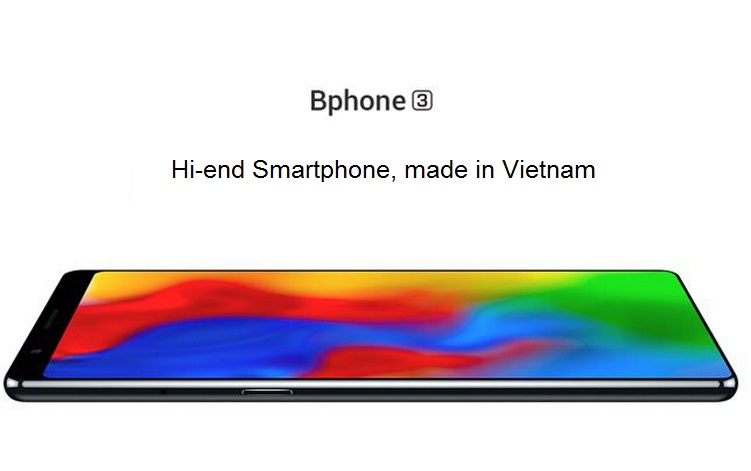 For Bphone 3, let me tell you what the core elements to compete with competitors are. Firstly, this is the first Android smartphone in the world with a bottomless design, you can notice that currently no smartphones, except Apple iPhone X, have such bottomless design, with 2 equal edges creating a very simplified design, really good in experience. So now only Apple iPhone X and our Bphone 3 have such design, and to do this, we have to own core technologies. For example, here the screen almost touches the antenna of the device, so the antenna must be designed very well. We must own core technologies to design the antenna. Similarly, regarding the mechanical part, we must master, own core technologies so that we can create such design. That is the reason why other than iPhone X, all other smartphones have the lower part that we call the chin, which is usually quite thick, and it is not easy to overcome such barriers. But we can do it because we already own core technologies and we persevere to do it for years. That is the first point.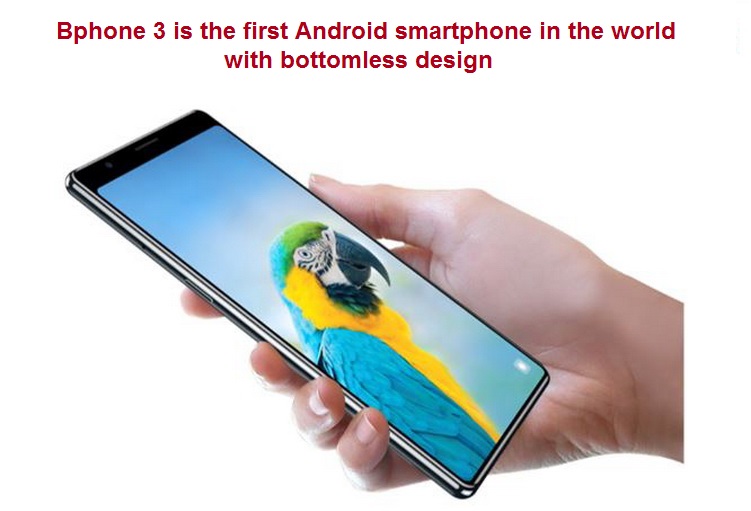 The second point is that: It not only has a bottomless design, but it is also very thin and aesthetic. Members on Tinh te forum (tinhte.vn), a Vietnamese technology forum, also made comparisons. Here are photos of Samsung and Apple flagship smartphones. On the left is Note 9, below is Oppo 5X (a flagship of Oppo, also an emerging brand on the world market), and on the right is iPhone XR. You can see that the edges of Bphone are not only equal but also the slimmest and it is not easy to overcome the challenge to create such a design.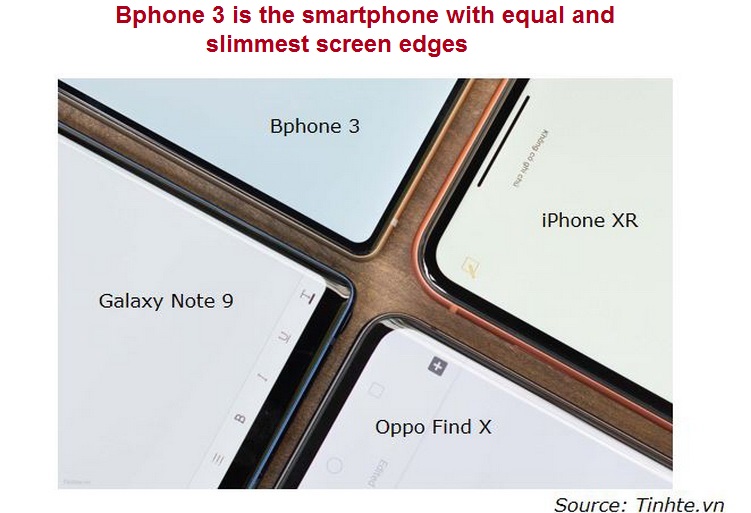 Especially, Bphone 3 is the first smartphone in the price segment of 6,990,000 equipped with waterproof standard. Currently this waterproof standard is only available in the flagships of such brands as Samsung and Apple and the price is usually about 1,000 USD, in a very high segment.
It is approximately 1,000 USD, which means the price is in the very high segment. While here our product has the price of only 6,990,000 VND, but has this waterproof standard. It can almost be said to be the first in this segment in the world equipped with this standard. And to produce a smartphone that meets this standard is not simple in terms of mechanics and production. We have to invest a lots in research.
Another point is the security. Currently, the technology community in Vietnam has admitted that Bphone 3 can be said to be the most secure Android smartphone. Because we are also a company with the starting point from network security so we have put the most quintessential into Bphone 3. For example, if the phone was picked up by someone else and reset to factory settings, the owner can still get back the phone, because the phone can still be locked and show phone number of the owner, the one who picked up the phone will find it impossible to use and have the owner's contact there, it is highly likely that they will contact to return the device. Or if it was sold to the store, the probability to redeem the device would be very high. And of course, blocking spam and other calls, etc. is the feature that other smartphones do not have. Right on Bphone 2 we have confirmed this feature, and users have clearly affirmed it.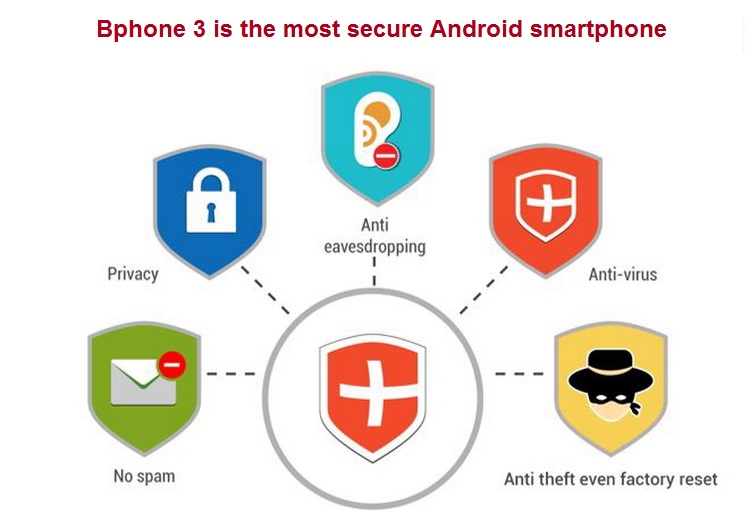 So, it is obvious that with proper investment, we can own core technologies. Thanks to owing such core technologies, we can create breakthrough innovations. I means the world-class, the international innovations, not just domestic innovations. All I have said, Bphone 3 has a lot of elements which are at the world class, can be comparable to any other similar products. If you hold Bphone 3 in your hand, you will see that it is really high-class, we have really cared for it to be a high-end device but at a good price and the Vietnamese technology community has acknowledged that it can compete fairly with products from Apple or Samsung. Of course, in previous years we were often criticized, called "explosive", this year is better, people have acknowledged us more.
I have a specific example. At the same segment with Bphone 3 in Vietnam market now, 2 smartphones with high sales of Samsung and Oppo are Samsung A6 and Oppo S9. Every month, each of these products has the sale of more than 100,000 products. We can see that A6 has weaker configuration than Bphone 3, aluminum case, no waterproof feature, the price of 8.3 million VND. Oppo S9 comes from China, plastic case, plastic frame, configuration equivalent to Bphone 3, but using MediaTek chip, not Qualcomm Snapdragon chip of very good quality. Its price is 7.7 million. But with Bphone 3, our strategy is good product, good price, and superior quality to Chinese products. What I am saying is that the price is a bit more expensive than China, for such companies as Xiaomi, they have the strategy of price taking all. The price of Oppo is not very good. And Bphone 3 has aluminum frame, glass surfaces, waterproofing, breakthrough design, high security and the price of only 6,990,000 VND. Clearly in terms of such components, the competition is very good and the welcome of the market is also very good.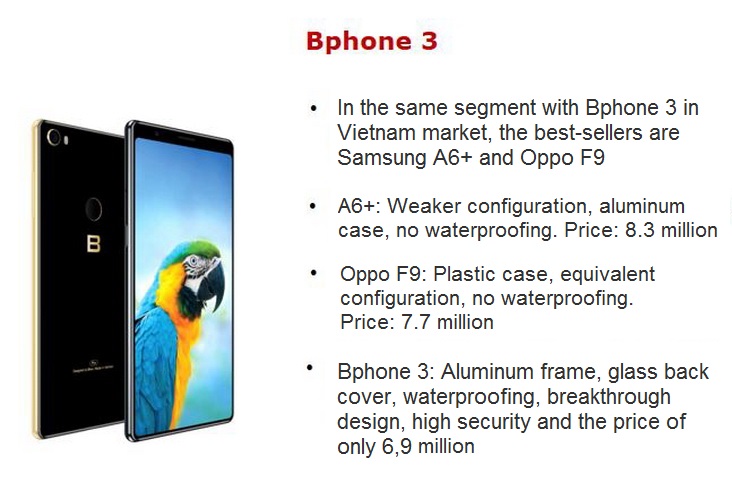 For us, we still really want to contribute to the development of the smartphone industry in Vietnam. So with the analysis I just presented, I think that it is really worth striving for. We have a specific plan that by 2023 Bkav can win 34.7% market share of smartphones in Vietnam, which is equivalent to the revenue of 2 billion USD. Then, with the domestic market, we will develop into the world market, just like Samsung travelling all over the world and creating the image of Korea, generating income for Korea. We are very eager to do so.
And to do such things, we now have 92 businesses providing accessories and components in our supply chain around the world and in Vietnam. And I think that in Vietnam, we still have a lot of difficulties, certainly, but if we can make use of innovations in the right way, we can really compete with the world leading corporations. I have also said that it is the methodical investment for research. And I think that Vietnam only needs to invest in 5 key technology enterprises, that is, each of such enterprise can lead a field, I think Vietnam can really develop based on science and technology. Just like Korea with LG and Samsung has clearly created a country of Korea that has grown so strongly as we have also seen.
And in the context of the 4th technology revolution, I believe there are also start-ups here and you are cherishing such things. And by doing them in a methodical manner with the aspiration and the capabilities of Vietnamese people, I believe that we can certainly have a place in this revolution. We really have invested for many years, but I think now the opportunity is much better. Previously, we needed six and a half years to make the first version and it took us more than three years to convince Qualcomm to provide us the chip. But now it is much simpler, everything is connected, the whole world is connected, and you will not need 9 years like Bkav to produce things like this. I believe that with the orientation of the state, of the government, in just a few years, businesses and start-ups with aspirations could reach the same results as us. I dare not say much, but it is obviously an opportunity for us to have good results in this revolution.
The Vietnam Innovation Conference was co-organized by the Vietnam Central Economic Committee and the Ministry of Information and Communication, which took place on the morning of November 14 in Hanoi. The event had the atttendance of Mr. Cao Duc Phat, Member of the Party Central Committee, Standing Deputy Head of the Central Economic Committee, Mr. Nguyen Manh Hung, Member of the Party Central Committee, Minister of Information and Communications, Dr. Mai Liem Truc, former Deputy Minister of Posts and Telecomunications, Mr. Tran Van Tung, Deputy Minister of Science and Technology, and leaders from Ministry of Information and Communication, Vietnam Internet Association, Vietnam Silicon Valley, World Bank, Qualcomm Group, FPT, Viettel, CMC and Bkav Corporation.
Bkav